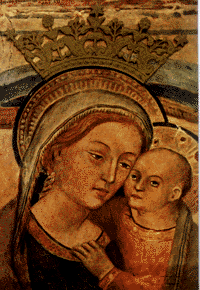 Several years ago, I sought spiritual direction from a priest in New Orleans who happens to have many mystical gifts. When I walked into the room, he said, "I see Our Lady of Good Counsel with you." This is a centuries-old title for the Blessed Virgin Mary with a miraculous image associated with it.
I was unfamiliar with the image, but when I returned home I realized that the icon hanging in my bedroom, which had been brought to me by my sister Caroline as a souvenir from Italy, was indeed Our Lady of Good Counsel.
Shortly thereafter, I gave a concert in Pensacola, FL. A delightful woman named Sara Edwards gifted me with a beautiful blue pearl and crystal necklace that she had made for me. She told me that they usually add a medal of St. Thérèse, but something told her that I needed Our Lady of Good Counsel! That necklace was stolen out of my carry-on bag on the flight to New Zealand recently, but nothing can take the tender love of Our Lady of Good Counsel from me, not ever!
Today is the feast day of Our Lady of Good Counsel. Do you need some wise, loving advice from your heavenly mother? Turn to her!
Click here for the full story on the miraculous image: http://campus.udayton.edu/mary/meditations/olgc.html