Upcoming Events
August 4 @ 11:00 am

-

12:00 pm
Kitty's Blog
Receive frequent updates by subscribing to Kitty's blog!
December 22, 2016

So I walked into the bar at the Southern Hotel last night (my daughter's choir was singing at the hotel), and a woman asked me if I was Kitty Cleveland. Her name was Mary, she said. She had just moved here from CA, and her late mother had given her one of my CDs at least 10 years ago. She recognized me from the CD cover (yay!).
Mary continued that after her mother passed away, she stopped in at a small church on the Sonoma Coast. It was Mother's Day, and she was really missing her mom. To her astonishment, at the end of the Mass they played my CD--the same one her mom had chosen for her!  And here we were meeting for the first time 10 years later, in a bar across the country. Isn't that cool? I love it when things like that happen. God's mercies are endless. 💝
December 16, 2016

Johnnette Benkovic has Adrienne Price and me as guests on Women of Grace, singing our favorite Christmas hymns.  Reruns nightly at 10:30 pm Central time. Join us!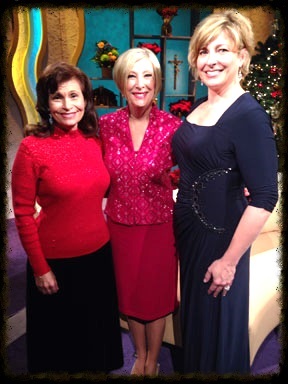 December 14, 2016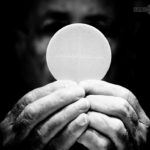 I had the strangest dream last night. I had been invited to sing at a Catholic church, where the whole parish was enthusiastic and welcoming. But when it was time to go to Communion, rather than being given the consecrated, living host, I was given a small, beautiful icon of Mary holding the child Jesus--and it was made out of white chocolate! Another one was given to my daughter. It was beautiful to look at and tasted delicious--but it was not the living sacrifice of the Mass. And on the flip side of the paper it came with a price: $11. The pastor had decided that they would charge people for the "Eucharist" as a way to support the parish, and everyone seemed happy to go along.
John 6 immediately came to mind: "Jesus said to them, 'Amen, amen, I say to you, unless you eat the flesh of the Son of Man and drink his blood, you do not have life within you. Whoever eats my flesh and drinks my blood has eternal life, and I will raise him on the last day. For my flesh is true food, and my blood is true drink. Whoever eats my flesh and drinks my blood remains in me and I in him. Just as the living Father sent me and I have life because of the Father, so also the one who feeds on me will have life because of me. This is the bread that came down from heaven. Unlike your ancestors who ate and still died, whoever eats this bread will live forever.'"
My take-aways:
1) I'm hungry for God, not for chocolate;
2) We are called to come to the table "without cost;"
3) The Holy Eucharist is not a treat, a symbolic wafer, or a gimmick. It is the living body, blood, soul and divinity of Jesus Christ, in whom I find eternal life. Hallelujah!

Page 3 of 17