Upcoming Events
September 8

-

September 10
Kitty's Blog
Receive frequent updates by subscribing to Kitty's blog!
April 26, 2017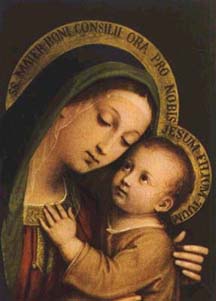 April 26, 2017; Several years ago, I sought spiritual direction from a priest in New Orleans who happens to have many mystical gifts. When I walked into the room, he said, "I see Our Lady of Good Counsel with you." This is a centuries-old title for the Blessed Virgin Mary with a miraculous image associated with it.
I was unfamiliar with the image, but when I returned home I realized that the icon hanging in my bedroom, which had been brought to me by my sister Caroline as a souvenir from Italy, was indeed Our Lady of Good Counsel.
Shortly thereafter, I gave a concert in Pensacola, FL. A delightful woman named Sara Edwards gifted me with a beautiful blue pearl and crystal necklace that she had made for me. Sara said that she usually adds a medal of St. Thérèse, but something told her that I needed Our Lady of Good Counsel!  I think she was trying to get my attention.  As my friend Katsey put it, Our Lady was just letting me know that she's always here for me.
Today is the feast day of Our Lady of Good Counsel. Do you need some wise, loving advice from your heavenly mother? Turn to her.
For more information about the miraculous image:  www.clavermissionarysisters.org/?page_id=289
February 16, 2017

Friends, for those of you who attended the meeting with Charlie Johnston in Covington, LA, last year at the Fleur de Lis Center, I think it's important to emphasize (again) that the Archbishop of Denver later issued a cautionary statement "strongly advising the faithful to exercise prudence and caution in regards to Mr. Charlie Johnston's alleged divine visions and messages." I took that message to heart then, and I still do.
An additional statement was released yesterday that stated, "The events of 2016/17 have shown that Mr. Johnston's alleged visions were not accurate and the Archdiocese urges the faithful not to condone or support further attempts to reinterpret them as valid." May God bless Charlie as he continues--like the rest of us--to prayerfully discern God's will, ever guided by those with benevolent authority over us.
February 11, 2017

Well, friends, we did it!  I drove up to Memphis last weekend for the America's Got Talent auditions with my sister Caroline, her daughter Julia, and my daughter Cecilia (the giggle twins).  After just a few hours of sleep, I registered for my audition Saturday morning along with thousands of other hopefuls.  I was only there for about three hours from start to finish--much less than I was expecting.  There was lots of waiting around, but it was fun to see all of the different acts milling about.  There were some real characters--and real talent--on display!
Here's my brief post-audition video that I posted on Facebook, which will bring you up to date on what's next (I'm sorry it cut out at the end, but I was just saying how my sister Caroline was my hero for driving me home!):

Page 1 of 17