December 23, 2006

(Re: Be Not Afraid CD, 2007) Most impressive is the consistency sustained throughout the album. Cleveland's abiding faith and reverence for God forms the basis of every song. And, as such, it's difficult to pick favorites since it's the kind of record that can be played repeatedly, from the first track to the last, without tiring of it..."Eye of the Storm" captures the full strength of Cleveland's artistry. With a gospel choir that gives the sound a heavenly measure, Cleveland has offered the world a gift that, obviously, was divinely inspired. A tribute to the survivors of Hurricane Katrina, this song could elevate Kitty Cleveland to star status. B. B., Music Connection Magazine, Los Angeles, CA
Kitty, your concert was so beautiful--I immediately liked EVERY selection when you sang it and again as I heard it going home on the CD! By now,my daughter and I have memorized all of the songs pretty much, and we compete for who gets the CD at home. We have "joint custody"--taking turns with listening to it at home, and then agreeing to listen to it first in the car!! Mary T, Kenner, LA
I got Kitty's newest CD in the mail a couple of days ago and I think I've listened to it 4 times since yesterday. It's awesome! Anyway, I just love the CD...Caroline S., Washington, DC
The new Be Not Afraid CD is fabulous. I was crying so hard yesterday listening to it I could hardly get out of my car and go into church without looking like I was a basket case! Kitty is being used as an instrument in God's hand to draw people into a higher place of worship and awe. I quickly ran out and bought a bunch more to give as gifts. Jan T., New Orleans, LA
Dear Kitty, I just had to write and thank you so much for being there for all of us at the Women's Day at St. Luke. You sound even more beautiful in person. I am so glad I purchased your "Be Not Afraid" CD. "Fragrance Prayer" really brings the Holy Spirit into my heart as soon as I hear it. It fills me with joy. Your Eye of the Storm song brings chills all over me. As you were singing "I will fly to you" a dove landed on one of the windows above the stained glass Jesus. I know because I have a family of doves that lives in my tree in my yard. Anyway, I just knew that the Holy Spirit flew to watch you sing that beautiful song and to be with us. It still brings tears to my eyes. Thank you for giving us such a wonderful gift and being part of such a wonderful day. And thank you again for sharing the gift God gave you with your voice and songwriting. Patrycja B, Slidell, LA
November 27, 2006

The Be Not Afraid CD release concert was a true joy.  What a gift to have so many friends come to share this special evening with me.
Thanks to my special guests: Fr. Kenny Allen (piano), my husband Mel Rogers (piano and flute), and my mom Joey Cleveland (background vocals).  Also thanks to Fr. John Talamo, pastor at Our Lady of the Lake, who trusted me enough to allow this concert in our beautiful church. And very few people would have known about it without the hard work of my faithful friends, Maria and Ron Burkhardt--you are a blessing and an answer to prayer!
September 22, 2006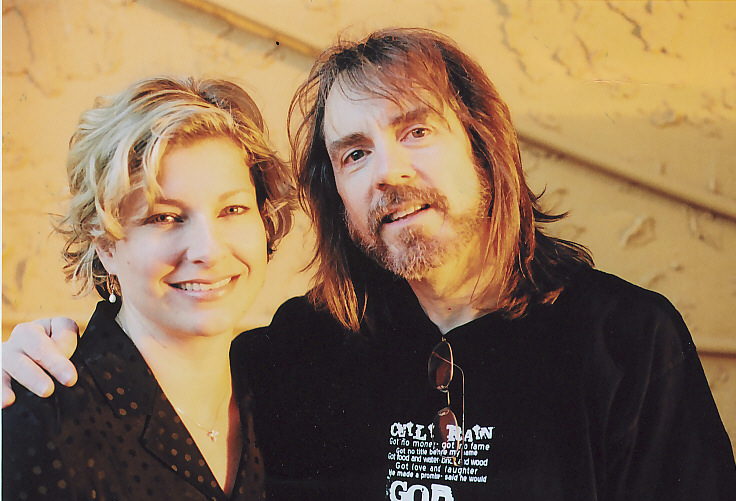 While we were exiled in Beaumont, TX after Hurricane Katrina, I spent a lot of time in an adoration chapel that was close by.  I spent hours in prayer trying to make sense of what had happened to my beloved home town of New Orleans, and out of that prayer came the words and melody for the song "Eye of the Storm."
The soulful ballad was a real gift, and I sent it to the brilliant Bob Halligan (pictured at left, www.CeiliRain.com) for his songwriting input.  In the meantime, his new single "Kneeling" took off on the Christian charts, and I couldn't get a copy of the finished music from him before I left for Nashville to start recording the new CD (Be Not Afraid).  Needless to say, I was anxious to get my hands on the it before I headed back home.
In the "God never sleeps" file, I arrived in Nashville to work with producer Joe Hand--only to find that Bob, who lives in New York, was also working in the studio that day!  What an unexpected blessing.  We added a bridge and gospel chorus, which makes the song even more special.  What a joy it was to sing and harmonize with him!
"Eye of the Storm" is on the Be Not Afraid CD, and the gospel choir will give you goosebumps!  In fact, one of them almost won American Idol a few months after the release (Melinda Doolittle came in 3rd place).
December 19, 2004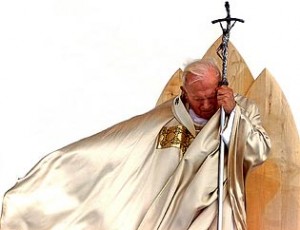 I was scheduled to sing for Pope John Paul II in an audience on Nov. 30, 2005, (my third opportunity to be with him on this trip--what a blessing!), but he ended up having a stomach virus that caused his secretary to cancel all but a few important exchanges.  This necessarily excluded me.
To say I was disappointed would be an understatement, but God knows what He is about, and I'm sure the Holy Father was much more in need of rest than in hearing me sing the "Ave Maria".  One really cool unexpected blessing, though, was that Archbishop Hughes (my archbishop) and all of the bishops from Louisiana, Mississippi, Alabama, Tennessee and Kentucky were in town for their ad limina visit, and I was invited by Fr. Christopher Nalty, a priest friend who works at the Vatican, to sing for their Mass in the crypt of St. Peter's Basilica.  So there I was with about 25 bishops, a dozen or so priests and two other lay people, where I got to sing at the tomb of St. Peter!  The tombs of many, if not all, of the past canonized popes also surrounded us.  It was really very special for me--I felt so small in the Big Picture of our rich Catholic heritage.
I flew out two days later and went straight to AZ, where I had a concert in a really fun and vibrant parish, St. Timothy (where LifeTeen was founded).  After I told them the story I just told you, someone spontaneously yelled out, "Hey, Kitty--it's OK.  You sang for the FIRST Pope!"  Well, what a cool way to think about it, huh?  (I guess I just forgot to tell God *which* Pope I was hoping to sing for :-).  Another friend has since commented that maybe I was also singing for the future pope!  Hmmm.....
Anyway, the bottom line is that as much as I wanted to tell myself that I just wanted to lift up JPII in prayer and honor Mary with my song, I realized that a little hidden part of myself really wanted it for ME--to feel special, to have the public recognition that God really has chosen me to do this work for Him, etc.  I was reminded that God has His own plan for us and for our ministry/life's work, and our job is to accept His will with docility, gratitude and joy. In fact, John Paul II was to die only a few months later.
Some days He may want me to sing for bishops and cardinals and popes, other days He may want me to sing for people who are marginalized and broken and forgotten, and still other days He may just want me to be silent.  I'm learning that the joy comes in wanting whatever it is He wants.
Love and blessings in this beautiful Year of the Eucharist.  Let's pray for each other +

Page 5 of 5