April 26, 2017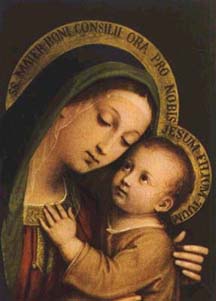 April 26, 2017; Several years ago, I sought spiritual direction from a priest in New Orleans who happens to have many mystical gifts. When I walked into the room, he said, "I see Our Lady of Good Counsel with you." This is a centuries-old title for the Blessed Virgin Mary with a miraculous image associated with it.
I was unfamiliar with the image, but when I returned home I realized that the icon hanging in my bedroom, which had been brought to me by my sister Caroline as a souvenir from Italy, was indeed Our Lady of Good Counsel.
Shortly thereafter, I gave a concert in Pensacola, FL. A delightful woman named Sara Edwards gifted me with a beautiful blue pearl and crystal necklace that she had made for me. Sara said that she usually adds a medal of St. Thérèse, but something told her that I needed Our Lady of Good Counsel!  I think she was trying to get my attention.  As my friend Katsey put it, Our Lady was just letting me know that she's always here for me.
Today is the feast day of Our Lady of Good Counsel. Do you need some wise, loving advice from your heavenly mother? Turn to her.
For more information about the miraculous image:  www.clavermissionarysisters.org/?page_id=289
February 16, 2017

Friends, for those of you who attended the meeting with Charlie Johnston in Covington, LA, last year at the Fleur de Lis Center, I think it's important to emphasize (again) that the Archbishop of Denver later issued a cautionary statement "strongly advising the faithful to exercise prudence and caution in regards to Mr. Charlie Johnston's alleged divine visions and messages." I took that message to heart then, and I still do.
An additional statement was released yesterday that stated, "The events of 2016/17 have shown that Mr. Johnston's alleged visions were not accurate and the Archdiocese urges the faithful not to condone or support further attempts to reinterpret them as valid." May God bless Charlie as he continues--like the rest of us--to prayerfully discern God's will, ever guided by those with benevolent authority over us.
February 11, 2017

Well, friends, we did it!  I drove up to Memphis last weekend for the America's Got Talent auditions with my sister Caroline, her daughter Julia, and my daughter Cecilia (the giggle twins).  After just a few hours of sleep, I registered for my audition Saturday morning along with thousands of other hopefuls.  I was only there for about three hours from start to finish--much less than I was expecting.  There was lots of waiting around, but it was fun to see all of the different acts milling about.  There were some real characters--and real talent--on display!
Here's my brief post-audition video that I posted on Facebook, which will bring you up to date on what's next (I'm sorry it cut out at the end, but I was just saying how my sister Caroline was my hero for driving me home!):
January 6, 2017

Well, friends...I submitted my video! If the AGT producers give me a front-of-the-line pass, then I'll pray about going to audition live in Memphis on February 4th. Yikes!  Please pray for me. Here's the video--let me know what you think!
January 1, 2017

So a couple of days ago a woman pulls her car behind my car and blocks me in, just as I'm getting ready to leave St. Peter's in Covington. She gives me a long, excruciatingly detailed story that I don't believe in the slightest bit, asking if I can give her gas money to get to the hospital to visit her dying mother.
I'm pretty sure I met this same woman a couple of years back in the Target parking lot with a similar sob story. I had told her to meet me at the gas station so I could fill up her tank, but she never showed up.
Everything in me is now recoiling from this woman, and I do not want to be shafted (again).  But I have just come from the adoration chapel where I had been daydreaming about this very scenario--a grifter asking me for money!
I had seen myself reach into the glove compartment of my car, pull out an old Magnificat prayer book with $5 in it, and then hand it to the person saying, "There are all kinds of treasure in here."
Ten minutes later, and I'm now facing this exact scenario. Assuming the daydream was a nudge from God, I tell her to wait.
I reach into the glove compartment and find an old Magnificat. I flip it open to stick in a fiver, and it lands on the meditation for May 13, 2014, "Graces of Our Lady of Fatima." I take notice but don't have time to read it. Handing her the book I repeat what I had just mentally rehearsed in the chapel: "There are all kinds of treasure in here."
It is just now hitting me that this was no mere coincidence, especially considering the CD I just released is dedicated to Our Lady of Fatima in anticipation of the 100th anniversary of the first Fatima apparition in 1917. So for what it's worth, here is the meditation I flipped to from May 14, 2014: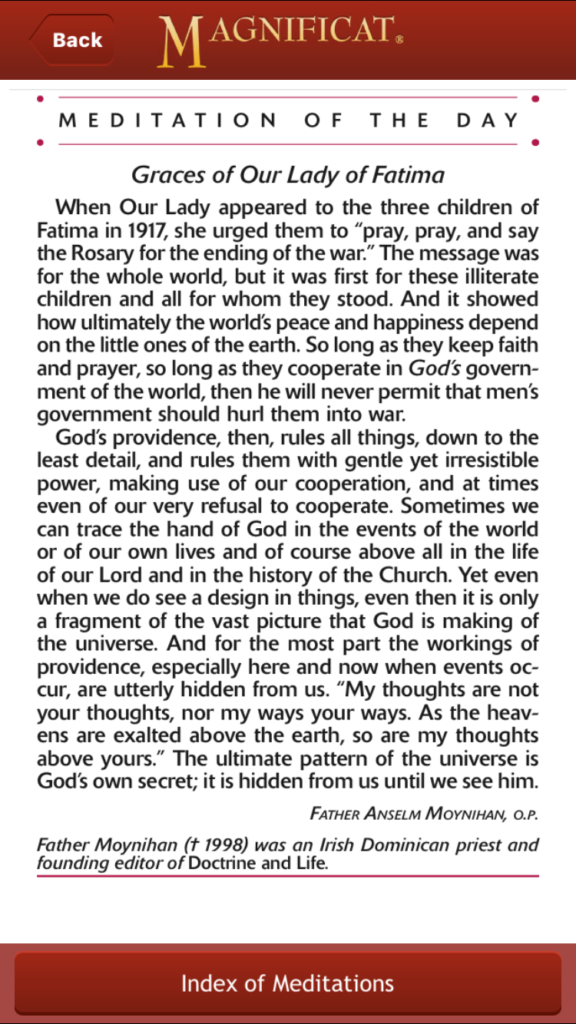 December 22, 2016

This morning I felt the most insistent urge to go to Mass, though it was starting in 15 mins. and I was still in my PJs. I quickly threw on some clothes and jumped in the car, only to sit in the maddening construction traffic on Hwy. 21. Now running quite late, I decided to pop in my new CD to help me pray, and "Holy Is His Name" came on, ending just as I pulled up to the church. I had missed all of the scripture readings, and Fr. Otis was already giving his homily--a mediation on all the tender ways God loves us.
When he sat down I opened to the gospel reading I had just missed, and it was Mary's Magnificat--word for word what I had just listened to in the car in "Holy Is His Name!" My heart was full as I stood up to sing that song at communion a capella (they indulge me at St. Peter).
Not only did God give me that sweet kiss on the cheek, Fr. Otis stayed late to hear more confessions, where I got to unburden my soul to the Lord and hear the words, "I absolve you from your sins in the name of the Father, and of the Son, and of the Holy Spirit." Praised be Jesus Christ, now and forever! Hallelujah! Oh, how he loves us, my friends, so personally and tenderly, so sweetly.
If you're feeling a restlessness, a distance from God, speak to him now from the heart. He thirsts for you. I'm headed to the Adoration Chapel right now and will pray for all of you who are reading this. 💝🙏🏻
P.S. Click here for the song: https://youtube.com/watch?v=ApxDhN4hRGU
December 22, 2016

So I walked into the bar at the Southern Hotel last night (my daughter's choir was singing at the hotel), and a woman asked me if I was Kitty Cleveland. Her name was Mary, she said. She had just moved here from CA, and her late mother had given her one of my CDs at least 10 years ago. She recognized me from the CD cover (yay!).
Mary continued that after her mother passed away, she stopped in at a small church on the Sonoma Coast. It was Mother's Day, and she was really missing her mom. To her astonishment, at the end of the Mass they played my CD--the same one her mom had chosen for her!  And here we were meeting for the first time 10 years later, in a bar across the country. Isn't that cool? I love it when things like that happen. God's mercies are endless. 💝
December 16, 2016

Johnnette Benkovic has Adrienne Price and me as guests on Women of Grace, singing our favorite Christmas hymns.  Reruns nightly at 10:30 pm Central time. Join us!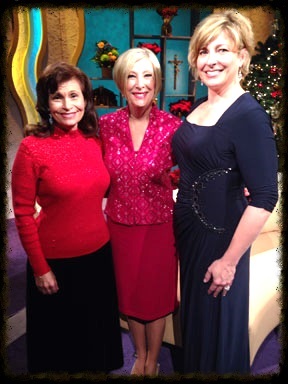 December 14, 2016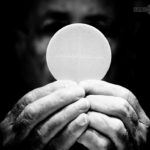 I had the strangest dream last night. I had been invited to sing at a Catholic church, where the whole parish was enthusiastic and welcoming. But when it was time to go to Communion, rather than being given the consecrated, living host, I was given a small, beautiful icon of Mary holding the child Jesus--and it was made out of white chocolate! Another one was given to my daughter. It was beautiful to look at and tasted delicious--but it was not the living sacrifice of the Mass. And on the flip side of the paper it came with a price: $11. The pastor had decided that they would charge people for the "Eucharist" as a way to support the parish, and everyone seemed happy to go along.
John 6 immediately came to mind: "Jesus said to them, 'Amen, amen, I say to you, unless you eat the flesh of the Son of Man and drink his blood, you do not have life within you. Whoever eats my flesh and drinks my blood has eternal life, and I will raise him on the last day. For my flesh is true food, and my blood is true drink. Whoever eats my flesh and drinks my blood remains in me and I in him. Just as the living Father sent me and I have life because of the Father, so also the one who feeds on me will have life because of me. This is the bread that came down from heaven. Unlike your ancestors who ate and still died, whoever eats this bread will live forever.'"
My take-aways:
1) I'm hungry for God, not for chocolate;
2) We are called to come to the table "without cost;"
3) The Holy Eucharist is not a treat, a symbolic wafer, or a gimmick. It is the living body, blood, soul and divinity of Jesus Christ, in whom I find eternal life. Hallelujah!
December 8, 2016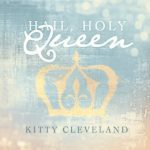 December 8, 2016. Thanks for your feedback on my new CD cover, friends. I took it all into consideration, made some tweaks, and am thrilled to announce that Hail, Holy Queen is now available for purchase! Just go to the Music section of this website.  For a special animated 3-D glimpse of the new CD,  click here.  And after you have look and a listen, please enter your comments below (if it will make me feel good).
P.S. I'll extend my concert special to you online since I'm not having a Christmas concert this year: Any 10 CDs for $100, and FREE shipping! But...you need to send the money through Pay Pal (friends and family) to orders@kittycleveland.com for that deal.  Just put your address and the number of CDs in the memo.  Thanks!

May 14, 2016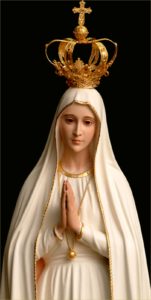 May 13, 2016--Feast of Our Lady of Fatima
Dear Friends,
After Mass this morning I was moved to go to our parish Perpetual Adoration Chapel with my daughter--something I haven't made time for in too long.  As I prayed with the day's scripture readings, I heard deep in the recesses of my heart, "It's time."
For a couple of years now I've been telling people that my next CD will be all about Mary, as a token of love and appreciation for all that she has done for me as a spiritual mother over the course of my life (and usually without thanks or recognition).  I just haven't felt like the timing was right for me to begin the hard work of creating a new CD, at least not until today.
It's time.
It makes sense that my instruction would come today on the Feast of Our Lady of Fatima, as next year at this time we will be celebrating the 100th anniversary of her first apparition in Fatima, Portugal, in which she gave urgent messages for our times.  Many have speculated on the significance of this centennial.  All I know is that I have been given a mandate, and I feel called to give the CD to Lighthouse Catholic Media to manufacture and sell at a bare bones price ($2-3/CD) should they choose do so.
Will you help me honor Our Lady of Fatima on her 100th anniversary?
For just $500, you can dedicate one of the songs listed below to someone special in your life, and you can include others in your sponsorship to split the cost.  Your dedication (up to 20 words) will appear in the liner notes of every CD we make, and I will send you five CD's as soon as we're done.  My goal is to have this CD fully funded in the next few weeks and to have it ready to go well before Christmas.  You may note that $500 is much less than we have asked for in the past, but this CD will be much simpler to make.  In fact, four of the songs are already recorded!
If you are interested in dedicating a particular song (listed below), please send an email to me ASAP (kitty@kittycleveland.com) with your top three choices. I will give out the dedications in the order in which I receive them.  If you don't see a Marian hymn on the list that you want, please let me know.*  Finally, please pray that I can make a beautiful gift for Our Lady!  I can't wait to share this with you when we're done.
Thanks and blessings,
MARY CD SONG LIST
Ave Maria (Schubert)
Ave Maria (Bach-Gounod)
Ave Maria (Caccini)
Ave Maria (Arcadelt)
Ave Maria (Gregorian chant)
Ave Maris Stella
Hail, Holy Queen
Hail, Queen of Heaven
Immaculate Mary
Mother Beloved
O Mary, We Crown Thee (Bring Flowers of the Fairest)
O Sanctissima
Regina Caeli
Salve Regina
Sing of Mary
Stabat Mater (At the cross her station keeping)
* The ones I've listed are all in the public domain.  To add songs that need to be licensed (e.g. Holy Is His Name; As I Kneel; Hail Mary, Gentle Woman), it would cost a good bit more and Lighthouse wouldn't be able to do it, but we could make it happen for $1,000/song on my own Mary CD (I can still give the public domain songs to Lighthouse).  Please let me know if you're interested.
April 28, 2016

As I prepare to celebrate a big milestone birthday in September, and as I note the growing aches, pains and waistline that accompany it, a death of sorts is happening in me.  I saw a time-lapse video this morning of the life cycle of a dandelion (it essentially blooms twice!), and it reminded me of the joyful hope we have in the promises of Christ.  May our many deaths in this life bear the seeds of new life and abundant fruit, both in our lives now and in the Kingdom to come.

Page 1 of 5